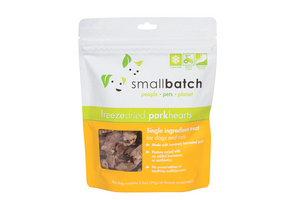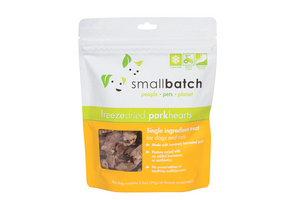 On Sale
Small Batch Freeze Dried Pork Heart 3.5oz
Smallbatch single ingredient treats for dogs and cats are excellent treats for pets with allergy issues and a great source of protein.
Small Batch makes 100% raw, non-grain diets for dogs that are formed into convenient patties, easy to thaw and serve at meal times.  Smallbatch is a unique "made to order" pet food company. This means that your pet's food is not mass produced and products are prepared in small batches. All of their meat comes from California farms and is pasture raised, hormone and antibiotics-free. Small Batch strives to use only California grown fruits and vegetables that are certified organic. All ingredients are human grade.
Smallbatch uses compostable packaging whenever possible, so what's inside is good for your pet and what's outside is not bad for your environment.
Key Benefits
Grown and prepared locally using humanely raised meats
No grains, corn or soy
No hormones or antibiotics
Made in the USA